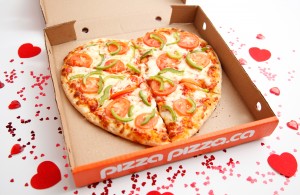 TORONTO, February 7, 2017 – This Valentine's Day, the great debate among couples rages on about whether to spend the night in – or venture out for a night on the town. According to a Leger omnibus survey commissioned by Pizza Pizza, 47 per cent of Canadians celebrating Valentine's Day would rather stay in and share a romantic evening at home, while 45 per cent prefer going out to enjoy a nice dinner.
 "Food and romance go hand in hand," said Pat Finelli, Chief Marketing Officer at Pizza Pizza. "While everyone has their own preference on how to celebrate, our pizza shaped like a heart is a cheesy favourite among those who order in."
 Some other interesting findings from the Canada-wide survey:
81 per cent of Canadians celebrate Valentine's Day – among those, 61 per cent have a date, 32 per cent don't, and five per cent said they "have a date with pizza"
Quebecers who celebrate Valentine's Day are significantly more likely to consider fondue and cheese romantic foods, while the rest of Canadians are more likely to consider pizza, pasta, seafood and steak to be romantic
Residents of Quebec are more likely to have a date on Valentine's Day
14 per cent of Canadians who celebrate Valentine's Day consider pizza to be a romantic food
Of those staying home, 20 per cent will order in
 The festively-shaped heart pizza is available at all traditional Pizza Pizza locations and is equivalent in size to a traditional 12" medium pizza and can be personalized with any two toppings for $11.49. Customers who opt for the special pizza shaped like a heart will also receive a box of heart-shaped chocolates and have a chance to win a two carat diamond ring.
 About Pizza Pizza Limited
For 50 years, Pizza Pizza Limited has been guided by a vision to provide the "best food, made especially for you" with a focus on quality ingredients, customer service, continuous innovation and community involvement. With more than 750 locations across Canada, the company is Canada's pizza pioneer and a quick-service restaurant leader, operating two banners – Pizza Pizza and Pizza 73 – that deliver quality food choices, diverse menus and exciting promotions for all tastes, lifestyles and budgets. Visit phx2uat.pizzapizza.ca and www.pizza73.com for more information.
About the survey
The survey was completed online January 16-19 2017, using Leger's online panel, LegerWeb, with a sample of 1,530 Canadians aged 18 and older. A probability sample of the same size would yield a margin of error of +/- 2.5%, 19 times out of 20.
– 30 –
Media information:
Mary Moniz                                                                                       Kathleen Stelmach
Torchia Communications                                                              Torchia Communications
416-341-9929 ext. 221                                                                    416-341-9929 ext. 227
mary@torchiacom.com                                                                   kathleen@torchiacom.com