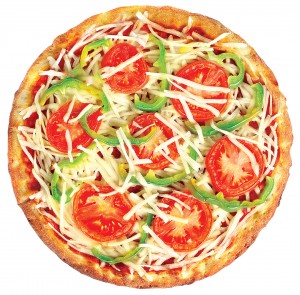 Toronto, March 7, 2017 – Pizza Pizza announces today the launch of vegan cheese, a new dairy-free menu option that allows Canada's growing vegan community to customize their pizzas with a cheese-like product that respects the vegan diet.
 The innovative ingredient is produced by Violife, a company founded by food enthusiasts who believe that cheese is all about love, family and happy memories – as well as something that every person should be able to enjoy. The North American distributor of the topping is a company owned in part by NBA champion John Salley, who met Pizza Pizza's Pat Finelli last year during the NBA All Star Weekend. Supported by the Pizza Pizza team, the duo have been working on the launch ever since.
"We're on a mission to provide quality options that meet the different flavour and dietary preferences of our customers," said Pat Finelli, Chief Marketing Officer for Pizza Pizza. "The great thing about pizza is that it can be customized and made exactly how you like it. You choose the crust, sauce, cheese and toppings. This new dairy-free vegan cheese is just one more way customers can make our pizza their own."
Pizza Pizza's dairy-free vegan cheese is plant based and vegan certified. The new addition becomes Pizza Pizza's sixth cheese option, along with classic mozzarella, four cheese blend, feta, parmesan and goat cheese.
"The rich flavour and creamy texture of our vegan cheese makes it the perfect substitute for any pizza," said John Salley, the four-time NBA champion and vegan advocate. "More and more consumers are moving towards a plant-based diet and eating less meat, so I applaud Pizza Pizza for providing consumers with options that are not only healthier, but also taste great."
Pizza Pizza is among the first major chains to add vegan cheese to its menu and, in the short time that it has been available, has received an overwhelmingly positive response from the vegan community. Over its 50 years in operation, Pizza Pizza has been a leader in the quick service segment and continues to innovate and evolve offerings to meet consumer tastes, including the introduction of gluten free dough, chicken products raised without the use of antibiotics and the elimination of trans fats from its menu.
The new offering is now available at all traditional Pizza Pizza locations.
About Pizza Pizza Limited
For 50 years, Pizza Pizza Limited has been guided by a vision to provide the "best food, made especially for you" with a focus on quality ingredients, customer service, continuous innovation and community involvement. With more than 750 locations across Canada, the company is Canada's pizza pioneer and a quick-service restaurant leader, operating two banners – Pizza Pizza and Pizza 73 – that deliver quality food choices, diverse menus and exciting promotions for all tastes, lifestyles and budgets. Visit phx2uat.pizzapizza.ca and www.pizza73.com for more information.
– 30 –
Media information:
Mary Moniz                                                                                        Kathleen Stelmach
Torchia Communications                                                               Torchia Communications
416-341-9929 ext. 221                                                                    416-341-9929 ext. 227
mary@torchiacom.com                                                                  kathleen@torchiacom.com