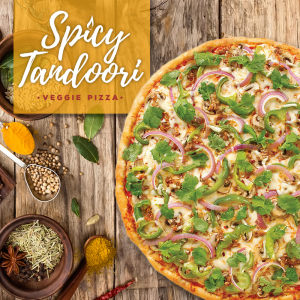 Toronto, June 5, 2017 – Pizza Pizza announces the launch of an exciting new flavour, Spicy Tandoori Veggie Pizza, available now at all traditional restaurants in Canada.
The new Spicy Tandoori Veggie Pizza is made using a tandoori masala and green chili sauce that's topped with red onions, green peppers and mushrooms, as well as a hearty sprinkling of chili flakes and fresh cilantro.
"We love playing with food and coming up with new pizza creations that the diverse palates of our customers can enjoy," said Pat Finelli, Chief Marketing Officer for Pizza Pizza. "Eating a vegetarian pizza doesn't have to be boring and this one has a fresh flavour that packs a nice spicy punch with the authentic tandoori masala and green chili sauce."
With over 50 different toppings to choose from, Pizza Pizza continues to evolve its menu. The company, which is celebrating 50 years in operation this year, leads the pizza quick-service segment and continues to develop innovative offerings to help meet changing tastes and dietary preferences. These innovations include the introduction of dairy-free vegan cheese, gluten-free options and chicken products raised without the use of antibiotics. In addition, all products and toppings offered by Pizza Pizza are free of artificial ingredients.
To view Pizza Pizza's complete menu and nutritional information, visit phx2uat.pizzapizza.ca.
About Pizza Pizza Limited
For 50 years, Pizza Pizza Limited has been guided by a vision to provide the "best food, made especially for you" with a focus on quality ingredients, customer service, continuous innovation and community involvement. With more than 750 locations across Canada, the company is Canada's pizza pioneer and a quick-service restaurant leader, operating two banners – Pizza Pizza and Pizza 73 – that deliver quality food choices, diverse menus and exciting promotions for all tastes, lifestyles and budgets. Visit phx2uat.pizzapizza.ca and www.pizza73.com for more information.
– 30 –
Media information:
Mary Moniz                                                                                      Travon Smith
Torchia Communications                                                               Torchia Communications
416-341-9929 ext. 221                                                                    416-341-9929 ext. 222
mary@torchiacom.com                                                                  travon@torchiacom.com