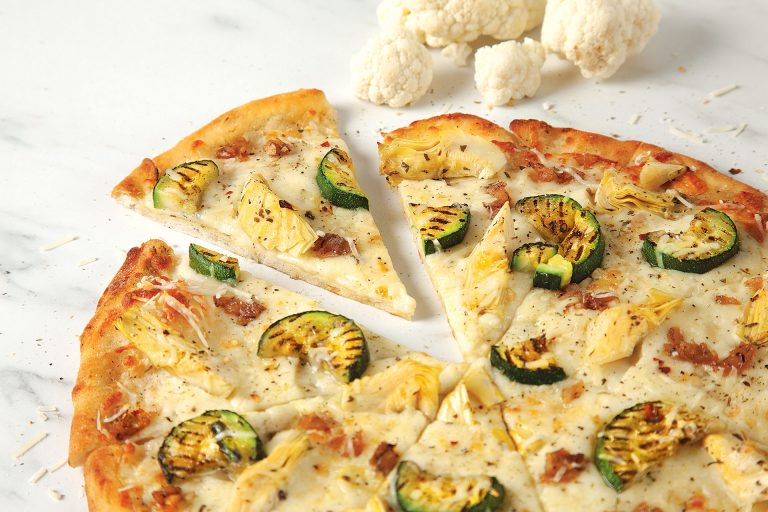 TORONTO, July 25, 2018 /CNW/-  Canadians are going to be able to "Cauli" Pizza Pizza for a new, delicious crust alternative.  As of July 16, Pizza Pizza's latest innovation – Cauliflower Crust Pizza – is available at restaurants across the country.
"Pizza Pizza has always been a consistent innovator and we know consumers are on the hunt for trend-worthy meals that help them incorporate more vegetables into their diet. Our new Cauliflower Crust Pizza is our way of filling the void in the market," said Paul Goddard, CEO, Pizza Pizza. "It will offer consumers the perfect healthier alternative they've been looking for in a pizza, without compromising on taste."
The new crust has a similar texture to regular Pizza Pizza pizza crust and contains two servings of vegetables in every 12" pizza, with real cauliflower as the main ingredient.  Pizza Pizza's Cauliflower Crust is available in medium size and can either be ordered custom or in one of the two new, specially crafted recipes, including:
Cauli Pesto: Pesto sauce base, mozzarella cheese, grilled chicken, roasted red peppers, spinach and italiano blend seasoning.
Cauli Blanca: Olive oil base, mozzarella cheese, artichokes, grilled zucchini, roasted garlic, parmesan cheese and italiano blend seasoning.
"We know there's been an appetite to use cauliflower as a base for many dishes but it can be time-consuming and messy to make from scratch, with expectations rarely meeting the realities," said Alyssa Huggins, VP Marketing, Pizza Pizza. "We're excited to bring a healthy option that is able to marry taste and convenience."
The crust is a source of fibre and iron, and is gluten-free and vegan.
Since 1967, Pizza Pizza has been a leader in Canada's quick-service restaurant industry with notable firsts and innovations. The company was among the first in its pizza class to do such things as eliminate non-natural trans-fats and artificial colours and flavours from its menu. It is also known for the introduction of a time guarantee on delivery, invention of the insulated pizza delivery bag, as well as the implementation of a centralized call centre and phone number. The company is also associated with its iconic jingle, 967-11-11 which debuted in 1976 and was even rumoured to be an occasional Canadian passport interview question.
Come try the trendiest pizza in town and be part of the conversation on social media with #CauliPizzaPizza and tag @PizzaPizzaLtd on Twitter and Instagram and @PizzaPizzaCanada on Facebook. You can call or order online.
For more information, visit phx2uat.pizzapizza.ca.
About Pizza Pizza Limited
For more than 50 years, Pizza Pizza Limited has been guided by a vision of "Always the best food, made especially for you", with a focus on quality ingredients, customer service, continuous innovation and community involvement. With more than 750 locations across Canada, the company is Canada's pizza pioneer and a quick-service restaurant leader, operating two banners – Pizza Pizza and Pizza 73 – that deliver quality food choices, diverse menus and exciting promotions for all tastes, lifestyles and budgets. Visit phx2uat.pizzapizza.ca and www.pizza73.com for more information.
For further information:
Nisha Nair, The Colony Project, nisha.nair@colonyproject.com, 416-738-9926