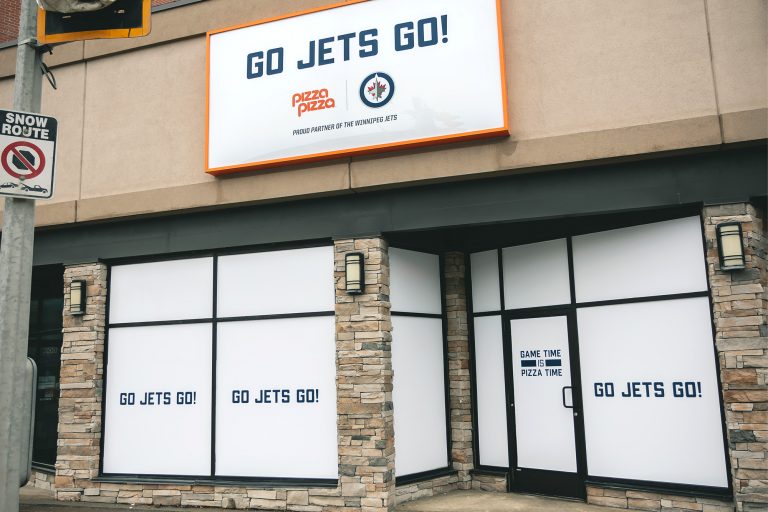 WINNIPEG, April 8, 2019 / CNW / –  Go Jets Go! As the Winnipeg Jets get set to host their first home game as part of the 2019 NHL playoffs, proud partner, Pizza Pizza, is already displaying tremendous signs of team spirit in the local community by participating in the tradition of the Winnipeg Whiteout. With 12 restaurants across Winnipeg, Pizza Pizza has been a household staple for Winnipeggers since 2009 and understands what gets the community excited; a huge part of that is the love for the Winnipeg Jets.
With two days until the official start of the 2019 playoffs, Pizza Pizza has a special surprise to celebrate the home the sl-ice advantage and spread team spirit throughout the city of Winnipeg.  Winnipeggers cheering their beloved Jets to victory will notice all Pizza Pizza locations have traded in their traditional orange for epic white. That's right, in Winnipeg, white is the new orange, from icy-white pizza boxes to all-white attire, Pizza Pizza has had a total white makeover. In addition, Jets fans passing by Notre Dame Avenue & McPhillips Street will also see a massive billboard towering over the street with a message to the team saying, 'Go Jets Go!'.
Revealed today! Customers visiting the Pizza Pizza store at Portage Avenue, near Bell MTS Place will be met in a face-off with the store's all new look for playoff season – a frosted white storefront that cannot be confused with anything other than the Winnipeg Whiteout.
"I can speak from experience, Winnipeg is an incredible place to be all year but during the hockey playoff season it is sheer magic.  The team at Portage Avenue is excited to be showing our support for the Jets in a big way this year," said Arneil Navarro, Pizza Pizza Winnipeg – Portage Avenue, Store Owner. "As a proud partner of the Winnipeg Jets, Pizza Pizza is thrilled to participate in this community tradition and celebrate all our wins together as Winnipeggers."
Pizza Pizza will continue this display of team spirit throughout the playoff season, to support both the Jets and all the fans in Winnipeg. In addition to this slapshot fun, Pizza Pizza is slashing prices off entire pizza orders. Pizza Pizza will be cheering along with fans, and increasing savings for each round that the team advances. For more information on how you can join in on the fun visit phx2uat.pizzapizza.ca. Go Jets Go!
About Pizza Pizza Limited
For more than 50 years, Pizza Pizza Limited has been guided by a vision of "Always the best food, made especially for you", with a focus on quality ingredients, customer service, continuous innovation and community involvement. With more than 750 locations across Canada, the company is Canada's pizza pioneer and a quick-service restaurant leader, operating two banners – Pizza Pizza and Pizza 73 – that deliver quality food choices, diverse menus and exciting promotions for all tastes, lifestyles and budgets. Visit phx2uat.pizzapizza.ca and www.pizza73.com for more information.
For further information:
Nisha Nair, The Colony Project, nisha.nair@colonyproject.com, 416-738-9926