WEST PARRY SOUND HEALTH CENTRE, PARRY SOUND, October 26th, 2023 – On Tuesday, October 25th, members of Pizza Pizza Ltd. took the time to visit West Parry Sound Health Centre to make a generous donation. Funds were raised from sales proceeds collected through a weekend event held in the summer at the Pizza Pizza trailer located in Foot's Bay.
Kim Karges, Chair of the West Parry Sound Health Centre Foundation and Donald Sanderson, Chief Executive Officer of West Parry Sound Health Centre, were present to accept the generous donation. Kim was excited by the opportunity to connect directly with this new donor, "On behalf of the West Parry Sound Health Centre Foundation, I would like to thank you for supporting the priority needs of our community. Your generosity will help ensure excellent health care continues to be available in our community, for both residents and visitors," said Kim.
Representatives from Pizza Pizza Ltd., Amber Winters – Senior Director of Marketing, and Galeeb  Mehdi – Regional Vice President of Operations, brought with them a message of gratitude to  their loyal customers for their generous support, "We'd like to thank the community members  and visitors of the Muskoka region for dropping by our Pizza Pizza trailer at The Cove Marina at  Foot's Bay. All pizza sales proceeds are being donated to West Parry Sound Health Centre, to  support the critical work they do in the region," shared Paul Goddard, Chief Executive Officer, Pizza Pizza Limited. 
"The health centre is as always, humbled by the on-going support of our community," said Donald Sanderson. "This generosity of spirit and the hard-work and dedication of those at our supporting Foundation, make the work we do possible. We are forever grateful for their contributions to support care of the patients and families we are privileged to serve."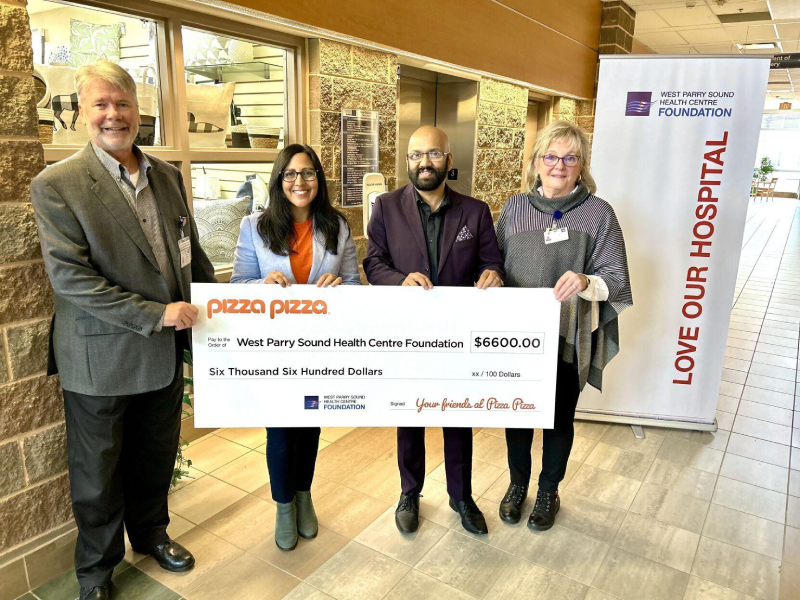 About Pizza Pizza Limited
Pizza Pizza Limited was founded in 1967 in Toronto, Ontario and has grown to become Canada's leading national Quick Service pizza brand with over 750 restaurants across the country. In 2007, Pizza Pizza acquired the Pizza 73 brand, which operates over 100 locations, primarily in Alberta. Pizza Pizza is guided by its vision of "Always the best food, made especially for you", with a focus on quality ingredients, customer service, continuous innovation, and community involvement. In 2022, Pizza Pizza introduced its brand platform 'Everyone Deserves Pizza' a testament to their belief that pizza is all about inclusion. For more information, visit www.pizzapizza.ca and www.pizza73.com or follow Pizza Pizza on Facebook, Instagram, LinkedIn and Twitter @PizzaPizzaLtd.
MEDIA CONTACT
Jess Fargher Lee
705-746-4540 ext. 4119
jfargherlee@wpshc.com